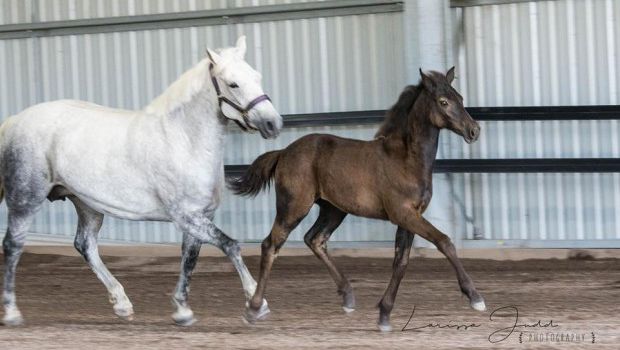 Matuvu Noelle
GRP x Connemara pony filly
To mature approx 14.2h, dark brown
DOB 27/11/2017
Intro
Matuvu Noelle is a very feminine filly with a gorgeous little face. Confident like her mum and it looks like she will retain her dark coat.
There are only a handful of Nemax mares in Australia so we are very lucky to be a part of it. Noelle has as a beautiful trot with lots of knee action and a very active hind engine.
The Sire Nemax has over the past few years shown himself to be one of Germany's most sucessful riding ponys; now siring award winning offspring. As a Sire he guarantees performance , rideability and character. With 20 licensed sons, he is prepotent stallion dynamite. Even as a young pony Nemax showed great ridebility as Greta (then 11 years) began to introduce him successfully to competitions . Nemax and Greta entered 2x successfully at the State Championships and 4x at the Bundeschampionat , 5- and 6- year in dressage and show jumping !
The Dam Glenormiston Caoilinn herself is a Champion, grade 1 Connemara mare who excells in show jumping, has great movement and a very quiet temperament. All attributes she tends to pass on to her progeny.
Noelle is being retained as future broodmare to keep Caoilinn`s bloodlines. She is growing into a very athletic filly wrapped in a dark coat.
Pedigree
Sire : Nemax

GRP Stallion
Sire : Niveau
Dam : Edda Eleisa

For further information on Nemax, please see our Reference Stallion page.

Dam : Glenormiston Caoilinn

Sire: Castle Baron
Dam: Glenormiston Cornamona

For further information on Caoilinn see our Mares page.
Breeding
2021: Golden West (GRP)