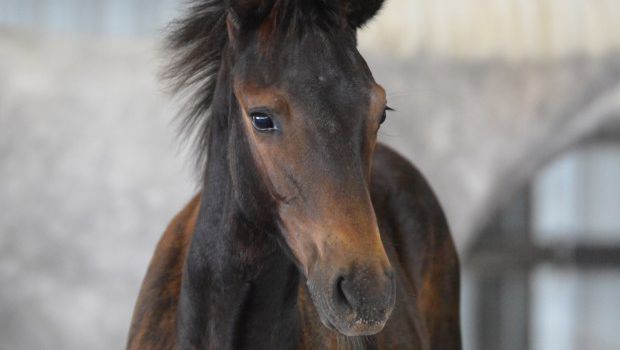 Matuvu Nemo - OUT ON LEASE
German Riding Pony x Connemara Colt
Nemax x Glenormiston Caoilinn (Castle Baron)
To mature approx 14.2h, Grey
DOB 12/10/2016

View full pedigree chart
Matuvu Nemo
Nemax
Glenormiston Caoilinn
Intro
A tall, strong and very fluffy eared colt by German Riding pony legend Nemax.
He has a trusting nature and is a very friendly chap. Nemax has thrown in this pretty eyes and athleticism and mum Caoilinn her sturdy frame and even added in some extra height! Nemo will be very sporty indeed.
The Sire Nemax has over the past few years shown himself to be one of Germany's most sucessful riding ponys; now siring award winning offspring. As a Sire he guarantees performance , rideability and character. With 20 licensed sons, he is prepotent stallion dynamite. Even as a young pony Nemax showed great ridebility as Greta (then 11 years) began to introduce him successfully to competitions . Nemax and Greta entered 2x successfully at the State Championships and 4x at the Bundeschampionat , 5- and 6- year in dressage and show jumping !
The Dam Glenormiston Caoilinn herself is a Champion, grade 1 Connemara mare who excells in show jumping, has great movement and a very quiet temperament. All attributes she tends to pass on to her progeny.
He is being broken in at the moment and proven to be a very trusting, sensible pony.
Pedigree
Sire : Nemax

GRP Stallion
Sire : Niveau
Dam : Edda Eleisa

For further information on Nemax, please see our Reference Stallion page.

Dam : Glenormiston Caoilinn

Sire: Castle Baron
Dam: Glenormiston Cornamona

For further information on Caoilinn see our Mares page.