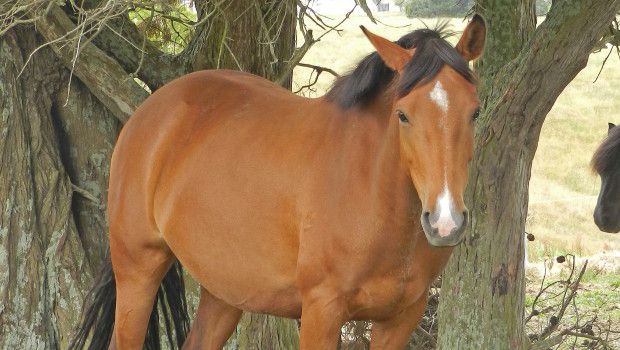 River Valley Sianaide - OUT ON LEASE
New Forest Pony mare 14.0 1/2 h.
Furzley Brocaide (imp) x Pahake Cocquette ( Wattle Ridge Somnus)
Bay, DOB 18/10/2007.
Sianaide is currently out on lease to Habafield New Forest pony stud.

View full pedigree chart
River Valley Sianaide
Furzley Brocaide
Pahake Cocquette
Intro
My love for the New Forest pony has lead me to purchase my last quality broodmare Sianaide. She has not disappointed: She is a gentle mare with an extremely `wanting to please` attitude.She is a pleasure on the ground, a pleasure to ride and always reliable. Three quality paces, a powerful jump and excellent trainability.
Overall a great sports pony!
So far, Sianaide throws strongly to the stallion used.
Pedigree



Sire : Furzley Brocaide (imp)

Imported Top Quality New Forest pony Stallion to produce the height ,quality & temperament required for performance ponies today.He stands at 14.1h and has an exceptional temperament,trainability and
free jump tested to 1.15m
Brocaide passes all these attributes on to his offspring. He was purchased from Sandra Kilford, Furzley Stud UK in 2005 by the Hipwell Bro's. This is an extremely successfull breeding program and his full brothers in the UK are all Show Hunter champions and incredible Show Jumpers!



Full brother Furzley Serenaide
Dam: Pahake Cocquette

Cocquette has mainly been used to produce quality, up to height foals. She has an exceptional pedigree which has made her a valuable broodmare.

Mother of Dam:Pahake Royal Premiere

A TRUE CHAMPION- NEW FOREST MARE.

Prem's life has alternated between being ridden and having foals. The foals have dominated, as 17 foals in 25 years does not leave a lot of time for riding. She has been to several stallions, mainly "Ramblers Pick Another" Imp. U.K., and all the older progeny are winning under saddle or in harness. She has won under saddle in open company and also at the Vic. stud show in the Mountain and Moorland classes. Twice she was breed champion at the Royal Melbourne Show, the only mare to ever beat the stallions. She also was breed Champion at the Sydney National on several occasions.
Offspring
2015: Matuvu Elijah by Mithril Cary Grant
2016: Matuvu Cookies N Cream by Hilkens Nougat Cream
2017: Matuvu Valencia by Oaks Volta

2018:
Not in foal to Applewith Pure Magic

Not in foal to Lamento III