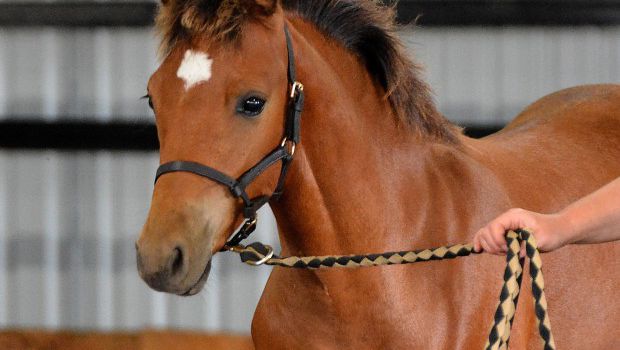 Matuvu Cookies N Cream
German Riding Pony x New Forest Gelding
Hilkens Nougat Cream x River Valley Sianaide (Furzley Brocaide)
To mature approx 14.1 h, Bay
DOB 24/9/2016

View full pedigree chart
Cookies N Cream
Hilkens Nougat Cream
River Valley Sianaide
Intro
A beautiful, strong, up to height colt by Hilkens Nougat Cream. Cookie has a inquisitive, friendly nature within a very athletic frame. We eagerly await his future as a top performance pony.
Hilkens Nougat Cream is a stallion I always wanted to use in my breeding program. Not only because of his successful offspring, good looks and great temperament but the quality of his pedigree runs very deep.
His Sire is Neckar, who was the champion stallion of the 1995 Weser Ems Koung, has been described as an incredibly brilliant stallion with outstanding motion over a jump. An extremely glamorous stallion, Neckar has sired 7 licensed sons and they are jumping successfully world wide.
His Dam is the State Premium mare Golden Deern who is out of a full sister to Branduardi M (sire of Hilkens Black Delight), by Golden Dasher, a son of the incredible Golden Dancer. Goldene Deern's dam, Golden Felina, not only won the Elite Mare Show in Weser Ems at her time, but also won the Federal Mare Show and won the Bundeschampionate as a 4yo. Goldene Deern is also the dam of Caramel WE, who was Siegerhengst in 2010 and Bundes champion in 2011.
Cookie will be broken in after christmas and we hope he will be the next pony for my daughter as he shows great jumping ability.
Pedigree
Sire:Hilkens Nougat Cream

GRP Stallion
Sire : Neckar
Dam : Golden Deern

For further information on Hilkens Nougat Cream, see our Reference Stallion Page.

Dam:River Valley Sianaide

New Forest Pony mare
Sire : Furzley Brocaide
Dam : Pahake Cocquette

For more information on Sianaide, see our Mares Page
Cookie as a 3,5yr old showing his willingness to jump, his flowing canter and of course his natural ability.