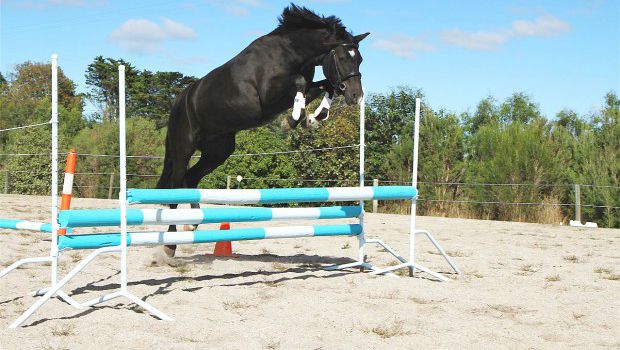 Mithril Roman Holiday - SOLD
Mithril Roman Holiday.Welsh B mare 13.3h
Owendale Brandyman x Mithril Hester ( Fairway Skyline).
Black DOB 6/11/2010

View full pedigree chart
Mithril Roman Holiday
Owendale Brandyman
Mithril Hester
Intro
Holly is a quality Welsh B mare with the prettiest features and the friendliest nature. Always the first to greet you in the paddock and ready with a lick or two. She has a great walk and canter. Her trot has high Welsh- like knee action and she has a lot of power behind. In free jumping she showed us her great style: very careful, impressive forehand style with a great balascule to match.
So far, Holly seems to produce very pretty foals who inherit her friendly nature and have increased stride length in the trot.
Link to Mithril Welsh Pony Stud
Pedigree
Sire : Owendale Brandyman

Brandyman is right up to height, standing 13.2 hands. He has the best of limbs and is a wonderful pony under saddle, as are many of his progeny.
Now 24 years old, he no longer stands at public stud, but continues to sire ponies for Mithril Welsh Pony Stud.

Progeny by Brandyman have had very successful lives as show hunter and dressage ponies, including Mithril Musket, Making Waves, Vodka, Mignonette, Chrome and Black Russian, and Matitojo Dawnie's Girl, Lykanarro Miz Emily, Elken Ruffian and Garraboo Cinnabar. Mithril Vagabond ( DWTS 2rd 6yr class 2015) and Mithril Valetta ( DWTS 3rd 5yr class 2015) both ridden by Louise Maguire.
Dam: Mithril Hester

Hester is up to height. A wonderful natured mare and a great producer. Dam of Hero's Return, Horatio, Harriet Houdini, Kalahari, Hennessy, Holly Golightly, Miss Hepburn and Roman Holiday.Wonderful old bloodlines, wonderful limbs, true saddle qualities, jumping ability - movement most pony owners only dream about.

Sire of Dam:

Fairway Skyline

He was a great character and a super show pony. His stock all have very kind natures and are natural jumpers.
Offspring
| | |
| --- | --- |
| 2014: Matuvu Lucy in the Sky ( Coed Coch Llabed) | |
| 2015: Matuvu Possum Magic ( Power boy) | |
| 2016: Matuvu Pixie ( Power boy) | |
| 2017 : Sold in foal to Power boy | |