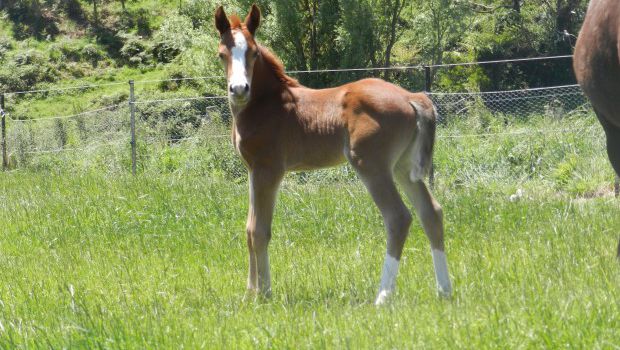 Matuvu Possum Magic - SOLD
Swedish Riding pony x Welsh B
Power Boy x Mithril Roman Holiday

Chestnut filly, DOB 22/10/2015
To mature approx 14h

View full pedigree chart
Matuvu Possum Magic
Power Boy
Mithril Roman Holiday
Intro
First Power Boy Filly to be born in Australia! We feel very blessed with the safe arrival of Possum Magic. A quality filly with very feminine features, a beautiful blaze and perfect matching socks behind.
Power boy mares are at the foundation of many top German Riding pony stud such as the `FS stud` which is built on Power Boy blood. Power Boy has consistently produced top progeny. Only in the years 2000 and 2001 he had 13 Approved Stallion sons and 20 Approved Stallion grandsons. Most of them became Elite or Premium Classified! He also had 17 Approved Stallions as a Grand Sire on the Dam sides. Power Boy is simply in a class of his own. His Progeny top the Winnings and Placings at the international competitions in any discipline, such as the Nordic Championships, the European Championships and the German Bundeschampionat, Essener Youngster Classics, the German Pony 3-day Event Championships as well as the Driving at the Windsor Horse Show in England.
On the dam side we have Mithril Roman Holiday by Owendale Brandyman out of Mithril Hester. Brandyman has sired many quality performance ponies ( incl DWTS ponies) and has the best of limbs and is a wonderful pony under saddle. Mithril Hester is the top mare of the Mithril Stud. She is up too height,wonderful natured mare and a great producer. Movement most pony owners only dream about.
Pedigree
Sire : Power Boy

Swedish Riding Pony
Sire: Downland Folklore
Dam: Sheila

For further information on Power Boy see our Reference Stallion page

Dam: Mithril Roman Holiday

Welsh B mare
Sire: Owendale Brandyman
Dam: Mithril Hester

For further information on Holly see her own page.