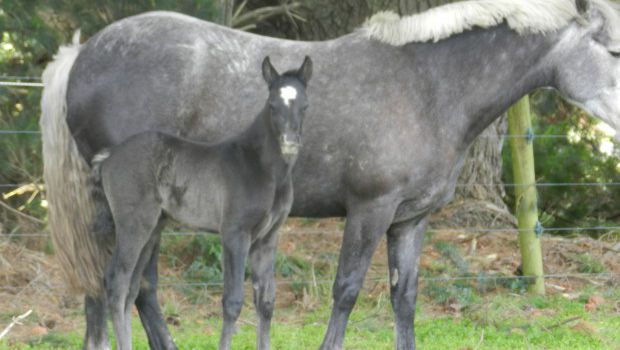 Matuvu Barocco - SOLD
German Riding Pony x Connemara Gelding
Golden Rock x Glenormiston Caoilinn (Castle Baron)
To mature approx 14.2 h, Grey
DOB 25/9/2013

View full pedigree chart
Matuvu Barocco
Golden Rock
Glenormiston Caoilinn
Intro
Our first Matuvu foal! He fully embodies our breeding philosophy : A Performance pony you can trust. He inherited his mums cool composure and his dads athletic genes. His movement has great suspension, elevated knee action from his dad with plenty of stride length from his mum. He will be free jumped this summer and I do expect to see great things! With strong jumping genes and love for jumping on both sides, this will be exciting. I`ll keep you posted...
Pedigree
Sire :Golden Rock

German Riding Pony
Sire: HET Golden Dream
Dam: Beauty Queen

For further information on Golden Rock see our Reference Stallions page.

Dam: Glenormiston Caoilinn

Connemara pony
Sire: Castle Baron
Mare: Glenormiston Cornamona

For further information on Caoilinn see our Mares page.